Congratulations are in order for
ledgerlover
, who has been awarded the honor of this month's Featured Artist!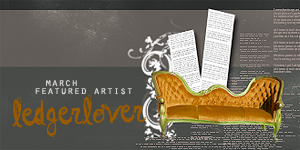 award by hayley jade
Dani is hands-down one of the most creative artists on this site. Her style is eclectic and innovative and just overall
cool
. I think the same word can be used for her personality, along with helpful and very friendly. Congrats again!