If you want information on other image hosts, you can find that
here
. I'm making a tutorial on Photobucket and Imageshack because they are the most popular to use.
Photobucket
The first thing you would do is sign up for an account, which is easy. Just go to "Join Now" on the main photobucket.com page (top right corner) and choose your username and password.
To Host An Image:
save the image on your computer. It's very handy to keep a copy of any graphic you request on your hard drive just in case the image host goes down (it happens! believe me). It also makes for an easier uploading of your graphic.
when logged into your account, you will come to a screen like this:

Once that is done, you will see this for your image: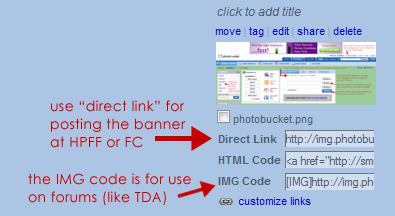 Imageshack.us
This site doesn't require you to have an account, but it has them available if you want to keep track of the images you've hosted. Like with any image host, you should save the image to your computer first.
Here is what the imageshack page will look like: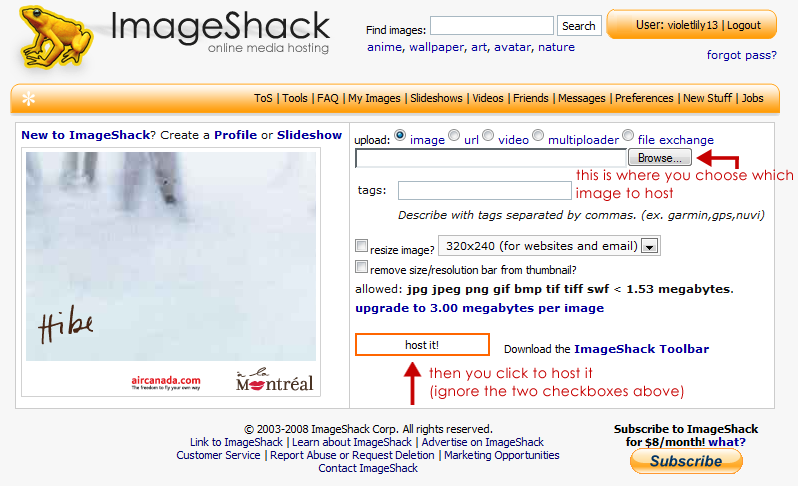 Once your image is hosted, you will get this screen: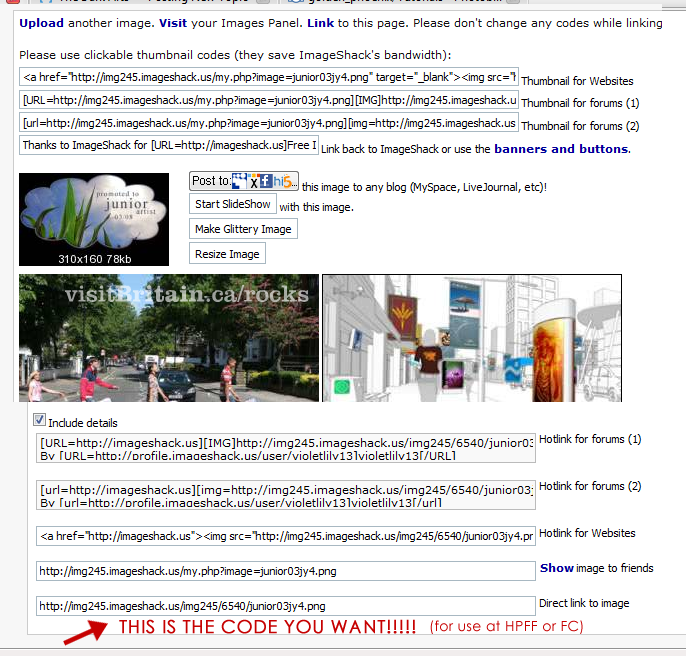 The code you choose from either site has to be the correct one, or else your graphics will not show up properly!
-------------------
Tutorial by !philescere
tinypic.com
So! Finally got the graphic from the artist! The next hurdle in the requesting process is learning how to host the image.


RANDOM CRASH COURSE ON FILE TYPES
ignore if & move on if you like, but it may
provide you with some information that
might turn out useful.
-
There is absolutely NO need to use Paint or any other image editing program.
Also, when you're saving an image, KEEP IT IN ITS ORIGINAL FILE FORMAT. If it's a .PNG file (which it most likely will be) do NOT go to Paint and save it as a .JPG or .JPEG. The latter two take up less space, but usually the picture quality goes way way down. Only convert images to .JPG or .JPEG if you really, honestly, and truly know how to
PROPERLY
use .JPG or .JPEG files, which, let's face, most of us don't.
The most common file types versus each other:
.PNG vs .JPG/.JPEG vs .BMP vs .GIF:
vs.
vs.
vs.
Obviously, the best file type for hosting is .PNG because there's the least distortion. .JPG/.JPEG is a close second, but there is still noticeable distortion and blurriness, especially around her hair, cheek, and eyes. I don't even think I need to say anything about .BMP and .GIF files. xD Sometimes artists WILL use .GIF files, but only in the case of animated banners. In that case, save it straight to your Pictures folder as a .GIF folder,
NOT ANYTHING ELSE!
Don't even THINK about Paint! If you take an animated graphic, paste it in Paint (or really, any other image editing program), and save it, then it'll lose its animation.
The main guide continues from here.
Before you continue hosting,



Once you're sure it's been saved where you wanted to be, go to a hosting site. This guide will focus on +Tinypic.com from here on out, though most of the steps are pretty much translatable to other hosting sites such as +Imageshack.us.

So, anyways, go to Tinypic. You should see Tinypic's main page, which looks like this:



Once you click the button:



Like it says, once you find your image, double-click on it.

Once you double-click, the pop-up should automatically disappear, replaced with this screen:



Once you click the green button:



Almost there!! Now, you have to click on, highlight, and copy the direct link. If the image is a

signature,

like the image in this example is, you use the following code to insert it into your signature:



CODE

[IMG]DIRECT LINK HERE[/IMG]



If, on the other hand, the image is a

banner,

(for HPFF) use the following code to insert it into your story summary:



CODE

<img src="DIRECT LINK HERE">