To display graphics online, you need to "host" them, meaning that you need to provide them their own URL.  This is a must-do when you receive graphics from our Requesting Arena or Up For Grabs forums so that you can take responsibility for the graphics that you're using . Remember to always save the graphics to your computer!
 
These first two sites provide you with short URLs, and you have the option of creating an account to keep track of your files, or just uploading at will.
 
1. Postimage.org
 


Once you've uploaded your image, you will receive a series of links.  You will almost always choose the "Direct Link". 
 

2. imgur.com
 
On the top right corner of their home page is the upload button.  Click on "Computer" to get this screen: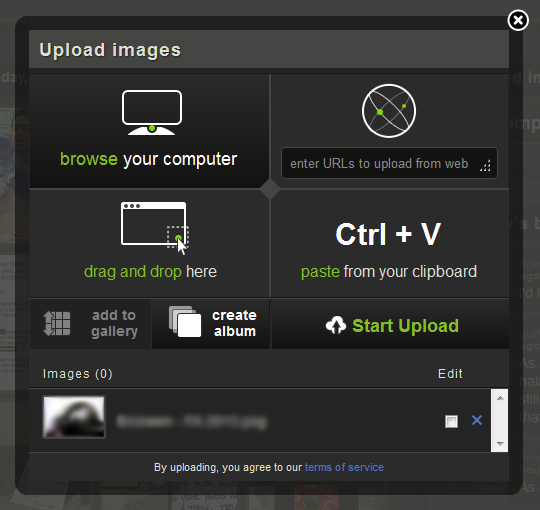 Choose the option(s) that work best for you, then click on "Start Upload":  From there, choose the "Direct Link" from the list of URLs on the right side of the page. 
____________________________________
 
Other popular image hosts include NickPicHost, ImgBB.
We do not recommend hosting on Tinypic or Photobucket.
 
One important thing to be aware of is the size of the graphic you are trying to upload.  If it is animated or otherwise very large, then you will have to search for hosts that allow you to upload an image of that size.
 
Edited by starbuck., 05 August 2017 - 06:37 AM.
updated