Harley Quinn
Member Since 07 Dec 2010
Offline
Last Active Jun 02 2012 01:11 PM
About Me
^by my awesome name buddy Maya (Flightless). ily hun <3
Aaaaand hi there!
I am Maya and I have trouble creating about me pages. xD So a bit about me:
Some of my interests (waaaay many to list them all): Doctor Who, Harry Potter, Star Trek, Star Wars, Bones, The Mentalist, How I Met Your Mother, Supernatural, House M.D., Lady Gaga, old music from the 30-40s.
Dislikes: Mainly rude people
And other unimportant stuff.
I always considered myself more of a fanfiction writer, but recently a horrible writer's block hit me
(oh, alright, this is the lamest excuse ever, but I just don't feel inspired lately. And when I am not inspired, my writing gets horrible. Not that I am a genius author to start with.
) So that's how the graphics-making came about. I didn't want to lose my connection with the entirety of hpff while I sort out my writing inspiration and I fell in love with doing graphics. <3 It's so fun and wonderful and all that jazz.
Now I visit tda more often than the hp forums, though I try to be up to speed with whatever's happening there.
I am a Ravenclaw there and we are the greatest.
Anyways, I feel pretty connected to tda now and I have met so many lovely people here. One of them is Mei who made this wonderful graphic for me. Oh, yeah, I am in love with David Tennant, I am not sure how she knew this (and also with Jensen Ackles and Gaspard Ulliel. Back off from Gaspard, Jensen and David, girls, they are mine.
Yes, I am greedy. xD)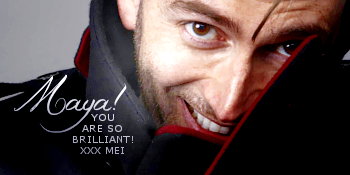 Thanks Mei!
---
Community Stats
Group

Member

Active Posts

1,269

Profile Views

11,939

Member Title

Oh the simulated horror

Age

29 years old

Birthday

December 16, 1988

Software

Photoshop

Gender

Female
Viewing Profile: Harley Quinn

Skin by ForgottenFace, Header by starbuck. |